INTERNATIONAL AGRIC NEWS
Zimbabwe: GMB Moisture Content Limit Spawns Dealers – Farmers Lose Millions to Illegal Traders – Govt Input Schemes Under Threat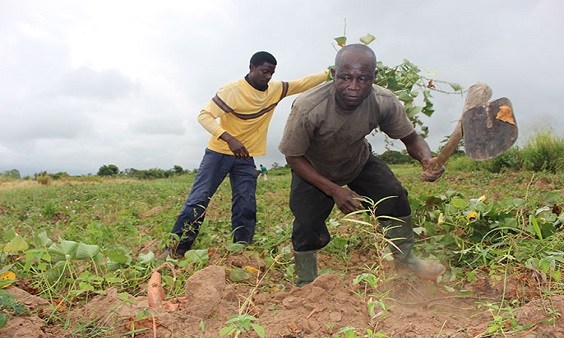 By Walter Nyamukondiwa
A two-tier black market system has emerged outside most Grain Marketing Board (GMB) depots countrywide where grain rejected for moisture content in excess of the accepted 12,5 percent threshold ends up being sold. This has also resulted in grain produced under Command Agriculture and the Presidential Inputs Support Scheme being sold on the black market for a song.
Farmers contracted under Command Agriculture are expected to pay for the inputs from part of their produce through a stop order facility after delivering to GMB.
However, with some farmers already selling grain on the black market, it remains to be seen if they will be able to pay for the inputs.
Some GMB officials are reportedly turning farmers away so that they sell their grain to black marketers out of desperation.
These will then sell the grain to GMB at a profit, while farmers are left counting their losses as they have to choose between selling it outside or paying more for a return trip to dry it.
Farmers are paying transporters between $30 and $1 000 per trip, depending on distance and the load.
There is a black market for grain rejected for high moisture content and middlemen who get grain for as little as $150 per tonne have nothing to lose if it's bought for anything between $250 and $320 per tonne.
It has also emerged that some businesspeople with ready cash are buying grain from farmers not contracted under the Command Agriculture Programme.
The maize is then passed off as theirs with payments of between $250 and $320, depending on whether it's paid out in cash or electronically.
Government has pegged the price of grain at $390 per tonne.
With liquidity challenges that see people queuing in banks to get as little as $20 per day, it remains a mystery how some people have large sums of money to pay the farmers cash.
The Reserve Bank of Zimbabwe (RBZ) has been calling on businesses and individuals to bank money.
It could not be verified by late yesterday if GMB had contracted some buyers to buy grain on its behalf outside their depots.
Some buyers interviewed outside GMB Lions Den said they were buying on behalf of companies and individuals who would then deliver it to GMB under their names.
Trucks of belonging to connected people such as businesspeople and politicians are reportedly being given first preference to deliver at GMB.
Desperate farmers wanting to offset transport costs after their grain has been condemned end up selling the grain outside for as little as $150 per tonne.
Agriculture, Mechanisation and Irrigation Development Minister Dr Joseph Made was not reachable yesterday.
Investigations by The Herald at some depots in Mashonaland West province have shown that the same condemned maize is later sold at the same depot.
"I have been here since Monday because of the high number of trucks bringing grain but I have just been told that my maize has high moisture content, which has put all my plans in disarray," said Mr Story Takawira who was contemplating his next move after being turned away at GMB Lions Den depot.
"Although we are supposed to sell the grain produced under Command Agriculture here (GMB), we are left with no choice but to sell on the black market."
He said he could not take back the maize back to his farm in Chinhoyi as there was no more storage.
Another farmer from Kanyaga in Makonde district said his grain had 12,6 percent moisture content in the morning yesterday but was surprised to be told in the afternoon that it had 13 percent.
Mr Isaac Musavengana who hired a truck for $140 said owing to the rejection of his maize, he was being expected to pay another $140 for a return trip or sell the maize at the black market.
"I have grain under Command Agriculture but because of the situation here at GMB, I am forced to sell at the black market," he said.
Similar sentiments were shared by farmers at Banket and Mhangura depots.
However, farmer organisations have called on farmers to desist from selling grain on the black market and wait for the grain to dry naturally using polythene to expedite drying.
Zimbabwe Farmers Union president Retired Major Abdul Credit Nyathi, called on farmers to be patient before hurriedly taking their grain to GMB.
"For better storage GMB needs moisture content of 12,5 percent and below so that it can be stored properly in silos. Our farmers should use polythene sheets to speed up the drying process instead of selling their grain on the black market," said Rtd Maj Nyathi.
"Our farmers will get less on the black market to their detriment."
Federation of Young Farmers Club of Zimbabwe board member Mr Tapiwanashe Chikondowa, condemned corruption saying investigations should be conducted.
"If indeed there are such practices, the law should take its course so that the culprits are brought to book. Farmers on the other hand should be patient," he said.
Due to government intervention and promises of instant money, farmers are taking their grain to the GMB earlier than usual.
Through natural means grain is sufficiently dry around August while some farmers are being forced to take out their crop early to make way for their winter crop.
Hiring a dryer costs around $20 per tonne and most farmers would have no budget for it.
GMB has called on farmers to take samples for testing before delivering large amounts of grain to depots.
credit:allafrica.com