Following President Nana Addo's official launch of the awaiting free SHS policy and the announcement by the Ghana Education Service, stating 92% of 2017 BECE candidates as qualified to start the programme, some Ghanaian parents have begun to raise issues about facilities that could accommodate the students.
The free SHS according to Government will start September 2017 with the assurance that government    absorbs the Full Cost of public Secondary Education.
The only Senior High School in the Upper Manya Krobo District, Asesewa Senior High School (ASSEC) has come under serious pressure over accommodation to house the fresh free SHS benefiting students.
Report has it that the school in the last academic year admitted a little over 300 students with availability of 18 classroom blocks.
According to reliable sources, the current state of the said classrooms is nothing to be used as a learning environment.
"Last year, we had over three hundred students with… The school has eighteen classrooms but for now, twelve are in a dilapidated state," the source said.
Meanwhile, information gathered by Rite News Desk has learnt that authority of the school has applied for 600 fresh students to be admitted into the first year.
A school which admitted a little over 300 hundred students last academic year with 18 classroom facility, going to admit 600 hundred with a situation where 12 of such classrooms are currently in a dilapidated state.
Daily Heritage News Paper on Monday reported the situation saying, the school (ASEC) was not ready to enroll students for the 2017/2018 academic year.
Rite News in an interview with the District Chief Executive, Hon. Felix Nartey Odjao described the reportage as "incorrect" and "inaccurate."
Meanwhile, the same source admitted 12 classroom blocks are currently in a dilapidated state. He again said the Parent Teacher Association of the school is renovating a shed to be able to house both the continuing and fresh students.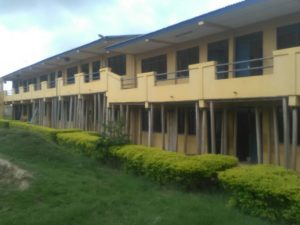 His Excellency Nana Addo Dankwa Akufo –Addo has on Thursday launched the logo for the constitutional mandatory policy with inscriptions, "Accessible, Equity and Quality."
To the government, equity "is a fundamental drive in any social intervention programme. Poverty, gender, deprivation, etc. should no longer be a barrier to education. The Government is eager to ensure a fair and just society where there are equal opportunities for all, irrespective of family circumstances."
Government Preparation to build new Classroom Blocks
"Let me take this opportunity to spell out clearly on what we intent to do so that no one in  Ghana is left in any doubts… I also want to state clearly again that we have a well-thought out plan that involves the building of new public Senior High Schools and cluster of public Senior High Schools," the president stated in a speech delivered at the 60th anniversary celebration at Akuapeman this year.
Has Asesewa Senior High School authority forward proposal to the government?
Source: Joyce Bedeley/ritefmonline.org