The New Patriotic Party will never trust the Electoral Commission, the General Secretary of the party, John Boadu, has said. He made the comments in Ho at the party's Volta Regional Conference while alluding to the recent feud between the Chairperson and her two deputies.
All three commissioners have petitions filed against them for their impeachment. The Chief Justice will in the coming days determined whether there is prima facie evidence against them.
"As for Electoral Commission, there is no way in the history of our party that we're going to trust any electoral commission or what so ever, we won't.
"To hear the story that is being told now, one commissioner accusing the other, if we had sat down without taking our destiny into our own hands [in 2016], we wouldn't have been laughing at the wrong side of our mouth now," he stated emphatically.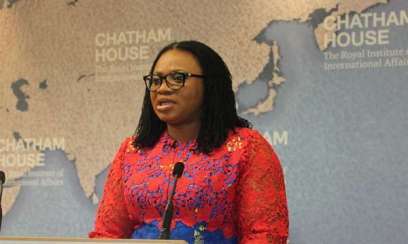 Mahama's worst mistake
Meanhwile, the flagbearer and founder of the All People's Congress, (APC) Dr. Hassan Ayariga has said former President John Mahama committed the worst mistake in his life by appointing Madam Charlotte Osei as the Chairperson of the Electoral Commission (EC).
According to him, Mahama did not do Ghanaians any good by appointing Charlotte Osei.
Ayariga said she [Osei] only created mess at the commission.
In an interview on Accra-based Kasapa FM, he said "I have nothing against the EC but I have something against her leadership[Chairperson].
"And that is why I said this woman is not fit. For God sake and with due respect to former President, that was the last and the worst mistake he made in appointing Charlotte Osei as the Chairperson, and I still stand by that statement."