Agri National
Grasscutter Production Is Challenging But Profitable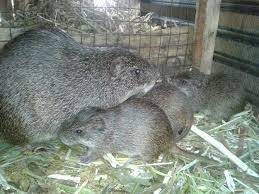 Mr. Kwasi Afena, a grasscutter farmer based in the Brong Ahafo Region has identified to Rite news some challenges confronting his job while at the same time admitting that the venture is very profitable.
Mr. Afena who was speaking on Rite FM's Akuafo Se Sen on Wednesday has thus appealed to the government not to turn a blind eye to grasscutter production but come in to provide money for the efficient running of the sector. This he said is because the venture is a good source of livelihood for farmers and the country as a whole.
Citing neighbouring Benin as a case study, Mr. Afena said that country has benefitted a lot economically as a result of the attention paid the grasscutter sector.
Dwelling on some of the challenges facing them, he said the problem of feed has been a major challenge though they have been promised some artificial feed as part of the solutions.
He said the ebola scourge also negatively affected their business though according to him, all the attributions to bush meat as one of the sources of the spread of the disease remain unfounded.
Source: ritefmonline.org