A Ghanaian researcher has invented new symbols for Ghanaian Languages to be used as numerals for students and teachers at the Basic Level and Advance of Education.
Mr. Amadu Hudu, a teacher and researcher who made the invention asserted on Rite FM's Community Watch on Saturday that, language is an element of culture in the World and Ghanaians for that matter struggle with numerals because the numerals bear no resemblance with the traditions, culture and language of the people.
The current alphabets and numerals used in schools across the country were invented by Ghana's Colonial Masters (British) but the basic school teacher in the Northern region believes symbolic representation of numerals would better enhance effective learning in our schools, a situation which has pushed him into researching into his invention.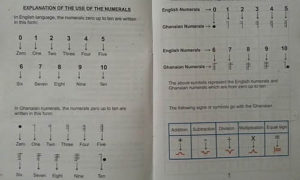 "I deem it necessary to conduct research into this before inventing the symbols of Ghanaian Languages to help facilitate effective teaching and learning of numerals in the country's schools," he intimated, stressing that, the numerals are universal and for that matter will be beneficial not only to one tribe in Ghana but the country at large.
The Ghana Education Service has also recommended the symbols as essential to help in the country's academics, adding that the development was more essential for the teaching of Mathematic at the Lower Primary in Ghana.
Text books
Mr. Amadu Hudu also added that, his able team has produced Mathematics Books 1, 2, and 3 for the Lower Primary but he is unable to produce other editions due to lack of funds. According to him, they will negotiate with the Ghana Education Service to help them acquire support from donors and government in order to print out the rest of the copies, as well as train students and teachers on how to use the new symbols.
The renowned researcher added that the sole objective is to preserve and promote our Ghanaian culture especially our languages. According to him, a wall clock has been manufactured using the numerical symbols.
Mr. Amadu explained that the numerals would be launched nationwide to introduce the new invention to students, teachers and the public as a whole after which they will tour all the regions to publicize the new symbols.
Source: Joyce Bedeley/ritefmonline.org/jbedeley9357@gmail.com