Benjamin Aboagye Danso, an agricultural research scientist with specialty in plant breeding, genetics and biotechnology, has hailed African scientists for successfully using CRISPR, a powerful technology for genome editing, to develop plantain plants with high resistance to the banana streak virus.

Gene-editing a natural process that allows researchers to cut out certain bits of DNA in order to control traits. After the cut, naturally existing cellular repair mechanisms then fix the broken DNA strands.
Gene-edited plants are different from genetically modified plants. Gene edited plants have their genes simply edited such as deletions and they do not have any foreign DNA introduced.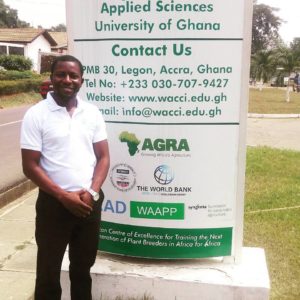 The plantain production in Africa is mostly constrained by a myriad of diseases. Therefore, the research to develop improved varieties that are resistant to pest and diseases was vital to ensure healthy and high yields.
The new plantain variety was developed by The International Institute of Tropical Agriculture, Kenya. This is the first time African Scientists have used the gene editing technology to successfully produce an improved plant variety in Africa.

In this technology, the gene that makes the plant susceptible to the viral disease is cut out at the DNA level.
Mr Danso said, "the objective for the research is to provide high yielding plantain which are also disease resistant… Viral disease is not curable and because plantain is planted in suckers the transfer of disease is directly from the mother plant to the offspring. In a situation of viral outbreak, the best way is to the make the plant unsusceptible to the virus".

This strategy can be applied to improve breeding lines, which can then be used to develop plantain hybrids with no risk of activation of functional virus. The strategy can also enable global dissemination of the resulting hybrids with improved B genome
"Ghana has not had any report of the virus infections in plantain in the country in severe conditions. Nonetheless, plant breeders must not wait until the virus come to Ghana before they act." Mr Danso added.

Mr Benjamin A. Danso is the Director of Research and Training projects at Kumasi Institute of Tropical Agriculture (KITA).
He has received several academic and professional fellowship awards, notable among them are the A.G. Leventis Foundation Fellowship in 2015 and the DAAD scholarship award in 2018.
Mr. Danso is currently a PHD student at West Africa Centre for Crop Improvement, University of Ghana.
Nana Boama Gyamo | nabgyamo@gmail.com | ritefmonline.org