Agri National
AQUAPONICS – THE NEW TECHNOLOGY OF FARMING IN GHANA

By Anthony Adorborlor
As part of our research to look at the participation of the youth especially students in the Senior High level whom are yet to go to the University and their interest in pursuing Agriculture course as a major. The team decided to pay a visit to the Golden Sunbeam International College of Science and Technology located at Ayikuma near Dodowa to confirm to a source in relation to their agricultural educational process.
Golden Sunbeam International College of Science and Technology is an accredited institution of higher learning. Their philosophy is to deliver quality education which empowers students to think outside the box and solve problems.
The university bridges the gap between theory and practice, which most African educational systems ignored. In relation to agriculture, the university offers BSc in Agribusiness Processing Technology and also Diploma in Agribusiness Processing Technology.
When the Rawlings government initiated the first phase of the Economic Recovery Program (ERP) in 1984, agriculture was identified as the economic sector that could rescue Ghana from a financial ruin.
Agriculture has always been the backbone of Ghana's economy and hence the current administration of his Excellency President Nana Addo Dankwah Akuffo Addo has outlined vision to modernized agriculture in 4 years.
As part of the President plan, the minister for Agriculture Dr. Owusu Afriyie-Akoto announced a campaign that will make agriculture a viable occupation for all Ghanaians, and in order to make agricultural a viable occupation for all Ghanaians, it will be detrimental to the youth and Ghanaian as a whole to take away or abandon the educational process involved in agriculture technology.
As part of our responsibility to help the minister achieve his campaign to make Agricultural a viable occupation for all Ghanaian. FMSL multimedia Limited  (Rite FM 90.1) agric desk team paid a visit to the Golden Sunbeam International College of Science and Technology to confirm a source which included a hands on section with their Animal Production, Crop Production, Aquaponics Operation System, Freeze Dryer Unit and their Sow Cow Processing Operation.
Before we were shown to this facilities, we were privileged to meet the President of Golden Sunbeam University Mr. Emmanuel Ohene Opare. Mr. Emmanuel Ohene Opare spoke to us and said, we cannot depend on farmers from other countries to feed us because it is our responsibility to feed ourselves and the only way we can achieve this was to take the educational process of technology and the practical aspect of Agricultural Business Management seriously.
He further said that, the Agriculture Industry was a million cedi industry and if only we can see it in that way, individuals will be rushing to it because it is gold mine.
The President of the University said that, what they are doing differently from others in one way, was to break the older normal tradition of growing food including buying about ten acres of land, hiring labor, irrigation, pesticides, weedicides, paying wages, and salaries, etc.  The traditional system can be replaced with the newer and in some ways more efficient technology of farming called an Aquaponics System.
This system helps you to grow food in a different way without the back breaking methods currently used in food cultivation on land. Because of the climate smart nature of Aquaponics Systems, they are not affected by harmattan or irregular rain fall patterns, and they do not require the use of pesticides thereby reducing costs of the old traditional methods of growing food.   He further stated that the youth get really excited about this system because it is different from the colonial ways of farming and it requires a level of creativity, innovation and technology in its design, function and operation.
Aquaponics is the way to go in crop/ vegetable food production in Ghana and when pursued would woo many educated people into the business of feeding the country.  Due in part to the vision of President Opare, this new farming technology called the Aquaponics which is currently operational at Golden Sunbeam University in Ayikuma is unique to Ghana and one of the few such systems in Ghana and in west Africa.
Furthermore the President envisions the one district one dam proposal of the President of Ghana for irrigating farm lands being used as commercial scale aquaponics systems brimming with tilapia and cucumbers, tomatoes, lettuce, basil, okro, hot peppers, green peppers etc, such that every district experiences an overabundance of fresh and safe organic vegetables and fish produce.
Citizens may not have to go to the markets to buy these products since they can shop for these produce right at the source, thereby reducing the likelihood of increased post-harvest losses and poor sanitation at the market place. Farming on land can be used to cultivate subterraneous crops which can then be sold at market places because of their longer shelf lives.
The President further stated that if all public high schools in Ghana installed Aquaponics systems rather than require vegetable production on land, agriculture will be more appealing to students and these schools will have the added benefit of raising fish and vegetables to complement their government school feeding programs. Golden Sunbeam University used a section (about 800 square feet) of its aquaponics system to produce 250 kg of organic cucumbers and 6000 tilapia to feed 300 school children program for a term. The children also enjoyed the benefits of eating tilapia in addition to participating in feeding the fish, checking PH levels and nitrate levels, fish feeding ratios, among other routine duties with the system.
The President of the University further said that, the Aquaponics System integrates the sciences of chemistry, physics, biology, business, agronomy, aquaculture, economics and engineering.
It is those concepts that has attracted many youth to consider the Golden Sunbeam University's agribusiness programs. In terms of the participation of the youth interested in the program – especially those senior high level students who are yet to go to the university – President Opare has seen a significant increase in those interested in pursuing any agriculture course as a major with a potential career in the agribusiness industry.
He said that, previously only two people were interested in agriculture majors but currently they have about 811 students on record and out of that number, 25% have shown interest in pursuing agribusiness course as a major. He further said that, there has been improvement looking at where they started from and where they are today concerning agriculture and believes that new methods of food production coupled with enabling resources in support of students will make agriculture the way to go for millions of youth.
Without post-college financial resources like cheap bank loans of 5%, we shall have a challenge as a country sustaining interest in the field. Agricultural financing should be far cheaper than any business loan he said.
Though these limitations exist, the President says Golden Sunbeam University's approach to addressing the concern of post-graduation employment or agripreneurship after college is unique and one of a kind in Ghana. The programs offered provide students the opportunity to raise startup funds in their program while pursuing their degrees, diploma's, certificates or short courses in Agribusiness Processing Technology.
When students are done with their programs of study, what they had accrued in the program through various agricultural activities will be  matched by the department such that, the student exits the program with certificate(s) and a tested business plan in one hand and startup assistance in the other hand. Golden Sunbeam University's program truly seeks to solve problems and it is this way of thinking we hope to infuse into all programs of the college.
Furthermore the President said that all courses taught at the university are potential entrepreneurship opportunities and solutions to people's problems and lecturers of Golden Sunbeam University teach these agricultural courses from the context of problem solving, research and development rather than focusing on problems and issues which causes intellectual paralysis. Courses have been carefully selected to solve problems and create value for students and the nation.
Talking about that stigma, the Registrar of the University, Mr. Sackey said that, some teachers and senior high school level give weeding as punishment to their colleagues and hence create the perception in the mind of students that, agriculture is all about weeding even if you owned the land yourself.
This perception makes it difficult for the student to select an agriculture major in the future even if he or she has the interest for it. Thanks to this Aquaponics Systems, they do not have to weed again.  The educational program at the Golden Sunbeam University has worked very hard at dismissing the stigma about the agribusiness industry.
The President of the Golden Sunbeam University furthers said that, in order to encourage the youth interest in Agriculture, there is a need to bring to bear the business opportunities in feeding the world because agribusiness is a business along the value chain of agricultural products and is not just the production of chickens but growing the chicken to meet somebody's demand and doing it in such a way that it is profitable, sustainable including making a difference in the personal life of the producer and his/her family.  Agriculture is a business – the business of providing adequate and safe food to feed the people of Ghana!
Ethan Jansen, an Agribusiness Management major student from the Brigham Young University –Idaho, USA and a peer-tutor who is doing his internship with Golden Sunbeam University in the field of Aquaponics Operation System said that, he was really happy here in Ghana especially with what he has learned so far in relation to the Aquaponics Operation System. Ethan was part of the team that took us around the facilities and his contribution has been very helpful to us.
Hlorka Joseph Nathan a student of the University spoke about how he was coping with the certificate program. He said that, most farmers in the rural areas depend on rainfall in order to have a good harvest but thanks to the institution and the introduction of Aquaponics Operation System they can still plant and harvest without depending totally on the rainfall.
Another student of Golden Sunbeam University called Lawrencia Sackey and also a former student of Mfantsiman Girls Senior High School said she has always had the passion to do agriculture.  She does not understood why Ghana has lots of land and yet we have to import some petty products from other countries. Lawrencia also encourages every household to have a backyard garden that produces some of the basic needs like pepper, tomatoes and onions. She further advises the current President of Ghana to pass a policy that shall make it compulsory for every household to have a backyard garden.
Levy Kulibali is an international student coming from Ivory Coast said, his country already has the knowledge about agriculture but some lack the technology aspect of it and that is why he was in Ghana to learn new ideas from the Aquaponics System. He also said that, farmers are responsible for the food we eat every day and there is a need to get ourselves involved in order to meet the demand of the world. He also mentioned that, just a few people in Ghana are working hard to increase productivity through the agricultural business, and there is a need for all of us especially the youth to get involved with this new technology. There should be enough to feed the world, enough to eat and enough to store in times of need as well.
An Aquaponics System refers to a system that combines conventional aquaculture (raising aquatic animals such as fish, crayfish or prawns in tanks) with hydroponics (cultivating plants in water) in a symbiotic environment.
The President of the University ended with a very good message to farmers and would be agripreneurs who think that they do not have any qualification or education, but yet still have that deep desire and interest to learn new things.
His message is "You are welcome to the Golden Sunbeam University!  Come and see what we can help you learn and you can help us learn too!"   He further said that, the only qualification you need is passion. Majority of those who grow food for Ghana today may have little or no formal education however they are more qualified in many ways to acquire college education.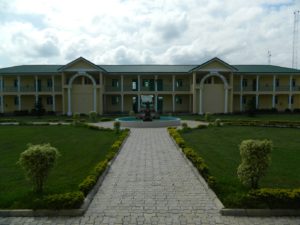 Once they have the passion to learn new things and acquire more skills, the avenue is there for them to pick up a form from the university desk and they will be assisted with their needs.
Golden Sunbeam is not new to community building activities and having been recognized in 2014 for providing continuing selfless and unaided service in education to a village community in Eastern Region of Ghana for the past 18 years providing the community free basic and secondary education.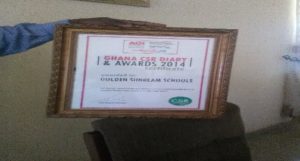 Today, many of these students Golden Sunbeam has trained from this village community, have become great assets to their communities and the nation where some have become teachers, police officers, healthcare professionals, mathematicians and others still enrolled in college.
These life changing experiences is what Golden Sunbeam University is about and seeks to replicate in the lives of Ghanaians regardless of their socio-economic or academic qualifications.
source: ritefmonline.org