What would you do with a thousand dollars? You could go on vacation, rent an apartment, have fun, or you could just start a chocolate making business. That is the story of Miss Akua Obenewaa Donkor, the CEO of Dekocraft Ghana, a chocolate producing company.
The 1000 USD start up success story started off as a decoration company about 6 years ago and has grown to become a chocolate producing company. Miss Obenewaa, an alumna of the Kwame Nkrumah University of Science and Technology studied to be a graphic designer during her tertiary education and so one would wonder what motivated the switch to chocolate making. Curiosity they say kills the cat but in this chocolate story, Obenewaa's curiosity while surfing the net coupled with research and dedication led to the creation of this business.
With a variety of custom products tailored to meet the specific needs of her customers, Miss Obenewaa is on the mission to promote homemade chocolates in a market that is dominated by foreign brands. Her hand-made chocolates 'Greetings from Ghana' come in different shapes and sizes and custom designs like her famous chocolate shoes.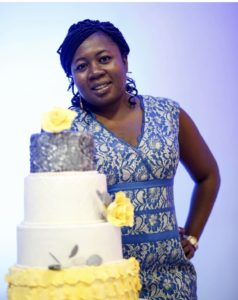 Located in Ashongman, a suburb in Accra, the company currently employs seven permanent staff and about 20 temporary staff during the peak season and averages about 300 bars of chocolate daily. Speaking with Rite FM Somanya, Miss Obenewaa stated that she gets support solely from the UKAID & the British Council. One would assume some form of support from the local front but unfortunately, that isn't the case.
She admitted chocolate is a luxury good and hence is not consumed by all. The tastes and preferences of the average Ghanaian are skewed towards savory foods and so the relevance of an export market comes into play. Not being a licensed cocoa buying company, Dekocraft buys from middle men that have cocoa buying licenses.
As their Cooperate Social Responsibility, Dekocraft Ghana has an outreach program dubbed 'I LOVE TO READ', a charity fund that donates books yearly to Obodanse a village in the Akuapim district to facilitate reading and learning among the children of the cocoa farmers.
She admonished the youth to veer into entrepreneurship and agribusiness and stated that policies need to be put in place to reward the cocoa farmers more as presently the benefits to the cocoa farmer in the value chain are not exciting.
I ask again, what would you do with a thousand Dollars gift from your father? You could go on vacation, go shopping, clubbing perhaps, have fun, buy a car or you could just start a chocolate making business.
'Gree-tings from Ghana' promises a tasty bite, do have one when you buy one!
PATRICK LARYEA / RITEFMONLINE.COM / LARYEAPATRICKNII@YAHOO.COM