Dr Godwin Amenorpe, Senior Research Scientist and Center Manager at Ghana Atomic Energy Commission, said excessive use of chemicals in farming which has become the order of the day in the country is what must be checked when it comes to environmental issues not GMO.
Dr Amenorpe said on Rite FM's Agric Forum that, the submission by Anti-GMO organizations that GM crops can cause environmental problem is wrong. He explained that "In fact GMO can rather enhance very good environmental conditions for other plants to flourish. Chemicals used in agriculture are causing problems in Ghana".

"We are importing a lot of fertilizers which pollute our water bodies than what is happening in the mining areas. Pesticides are the ones that we have to fear. If we can modify a plant that will have pesticides within the plant, we would not have to buy pesticides again", He added.
He said, Ghanaian farmers have to reduce their dependency on pesticides and adopt GM plant varieties that have been engineered to resist insect pests and viruses. The use of transgenic plants that are resistant to insect pests will reduce the amount of chemicals we are introducing into the environment.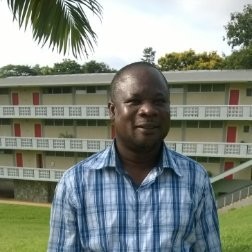 He added that borrowed genes which make GM crops resistant to insect pests are not artificial chemicals that are meant to destroy the environment. The pest resistant gene is merely borrowed from nature and put into the plant to give it that capacity. "We know very well that cowpea has got natural rhizobia that fix nitrogen, if that rhizobia in nature is not sufficient, we can mutate it to become super sufficient to fix nitrogen in the environment" he added. GMOs have been altered with DNA from another organism; these organisms are sometimes referred to as "transgenic" organisms. GMOs have a foreign gene introduced into them.

According to him, Scientists are using genetic engineering methods and biotechnology methods to breed new varieties of plants. The varieties do not have any foreign gene introduced into the plant and an example of such technology is genome editing.
Dr Amenorpe added that, last year he recommended 5 varieties of plants into Ghana and they were all accepted for release. He said "I modified the genes of the plants with the use of Gama radiation and the genetic composition of the plants were not abridged… they are not GMO…". Even though Mutagenesis has been used to improve many plant species, Dr Amenorpe added that "GMO can solve problems that Mutagenesis cannot solve… we cannot run away from genetic transformation… GM crops are very good and fit for consumption".
Nana Boama Gyamo | nabgyamo@gmail.com | ritefmonline.org