The Environmental Protection Agency (EPA) has planted 1000 seedlings of different species on a five-acre land at Kyebi in the Eastern Region.
The Acting Executive Director of EPA, John Pwamang, explained that the exercise is to promote the planting of tress on reclaimed galamsey lands and create awareness for  action in the protection of the environment towards the World Environment Day .
Several students drawn from second cycle institutions, officials of EPA, and the Okyenman Environmental Council took part in the two-hour tree planting exercise. The seedling species included mango, acacia, tick, mahogany and cedrela. Mr Pwamang pointed out that the nation was endowed with a lot of natural resources but in a bid to use them over the years to propel economic development, rules to preserve the environment to make it sustainable have been ignored.
"For the illegal mining sites, we have to work on them as a case study of reclaiming land by planting the seedlings," he said.
"Trees are very important. They are part of the basic form of life. Many water bodies have sources from forest."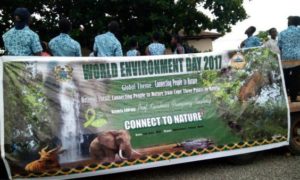 He said the Greening Ghana project will see the Agency devote resources every year to sustain the environment especially at dry areas.
"It is also in line with the trans-Africa programme to create a green world to block the Sahara desert from coming southwards."
He added that the reclaiming of galamsey lands was critical because lots of the nation's river bodies take their source from forest, where the illegal mining takes place. The theme for this year's World Environment Day is 'Connecting People to Nature from Cape Three Point to Bawku' and would be marked on Monday, June 5 at Kyebi in the Eastern Region.
Source: 3news.com