By Joyce Bedeley
The School Representative Council (SRC) President of the School Of Social Work, Mr. Simon Kuwella Libalgma has been sharing with Rite news his frustrations that nearly ended in him taking his own life. He trod the path of suicide because his family could not accept his 'strange' decision to continue to enroll in school instead of dropping out and helping in the family's farming business.
This was only a few years ago and he narrated his story to Rite news on the sidelines of his school's SRC week celebrations which extensively focused on the subject of suicide especially in the wake of a number of University students recently reportedly committing suicide in schools.
For young Simon who was barely nineteen at the time, those were challenging and traumatic moments for him especially in the wake of the family's argument that his education was a useless venture.
'My heart was saddened since I was a victim of rejection, trauma and poverty. At such times everyone needs somebody to talk to in order to voice out his frustrations. I was rejected by my family because I was classified as a deviant because I was in school and that would not bring any use to the family. I was asked to stop schooling since that won't bring any benefits and this forced me to sleep in the school rather than going home since I wasn't prepared to stop my education,'
He told Rite news' Joyce Bedeley, adding that that episode of his life pushed him to contend suicide.
'The worst part of it all was while I waited for the results of my WASSCE and when the results were about coming out. I feared the outcome and so thought of hanging myself. I however realized that suicide can't be the answer and backed down on this,' he added.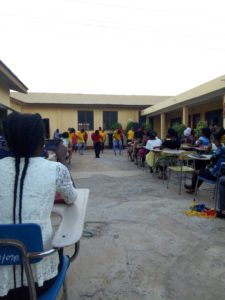 Simon's story and other suicide cases involving the youth, particularly students in recent times formed the theme of the School Of Social Work's SRC week celebrations. The theme was 'Suicide- the role of social workers in prevention, intervention and post tension.'
According to the SRC president of the school, Mr. Simon Kuwella Libalgma, the school chose the theme based on the rate at which suicidal acts were on the increase in the country especially among students.
Simon observed that as upcoming social workers who seek the welfare or wellbeing of every citizen, the institution has realized that there's a need for them to champion the course of doing away with the threat of suicide and educate people to know that in times of trauma, depression and other frustrations, suicide should not be the best answer.
He attributed the cause of suicide in recent times to some repugnant acts of today's youth. He also attributed the risks of the resort to suicide to the use of drugs such as marijuana, cocaine and tobacco. Other causes of suicide he mentioned include the issue of broken hearts and unemployment which are on the rise.
'About 60% of the youth are unemployed which means that after reading a course from school, they come out struggling to survive and they have no option than to take their lives,' he asserted.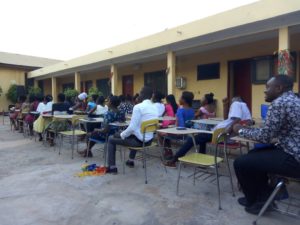 Mr. Kuwella therefore urged government to increase the counseling units in the schools from the basic schools to the tertiary level. He also called for the employment of more social workers who have undergone training to help and counsel people in times of trauma and depression and also help students to study outside the country in countries that are specialized in counseling. He added that the government should improve the employment structure for the youths to get employed after school since this can help address the situation.
As a victim of a near suicide attempt, Simon advises the youth that suicide is not the way out of any problems. To add to this, he has, through his NGO, TEKPAN Women's Association Let's Unite Women's Association) initiated diverse means of helping people especially women by providing them with money to start a leaving as well as caring for society's orphans and also to fight for girls who are victims of forced marriages in the northern region. He added that the group which has 3015 members covering 47 communities, has been able to rescue about 16 girls through such efforts.
To him, he would never have been able to accomplish all these if he had taken his life. He also called on the youth to voice out their problems and seek guidance and counseling since suicide is never the end.
The SRC president further appealed to the government to provide them a school bus, ICT laboratory, employment opportunities, hostel facility, a school building and scholarship for brilliant but needy students.
Source: ritefmonline.org