A colourful sod cutting ceremony on Thursday the 19th of January, 2017 with Dr. Jerryson Ameworgbe Gidisu who is the President of the Kings and Queens Medical University College and Teaching Hospital, has marked the commencement of the construction of an ultra-modern $160 million health and educational facility.
The Kings and Queens Medical University College and Teaching Hospital, when completed will provide health and educational services to hundreds of Ghanaians. Its location within the Lower Manya Krobo enclave is also expected to boost health, education as well as employment opportunities to those within its environs.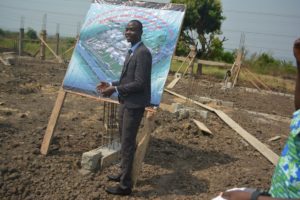 The facility due for completion in three years time will house a number of facilities. These include a surgical block, administration block, a ten-storey medical block, a research center, radiology and a mortuary.  Other facilities include a science-biased Senior High School, student hostels, lecture halls, staff flat, a Great Hall amongst others. Recreational facilities such as a gymnasium, a sports complex, a swimming pool among others are also part of the construction plans.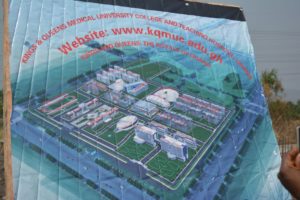 Cardiothoracic Surgeon and President of the Kings and Queens Medical University College, Dr. Jerryson Ameworgbe Gidisu told Rite news that the project was being undertaken in partnership with other world class universities such as the Hebei Medical University from China and the University of Health and Allied Sciences from Ghana.
Dr. Gidisu also intimated that the facility will take 2000 students per year upon completion with the hospital also in the offing to accommodate 3000 beds when completed.
'The project will be constructed in three different phases and we are expected to take 2000 students per year but we won't be able to do that during the first phase.  The hospital is also to be constructed to a capacity of 3000 beds which also we shall not be able to do in the first phase,' he added.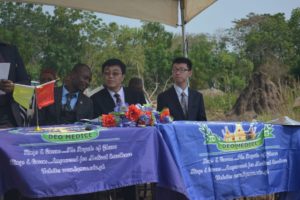 The fact that the Eastern region lacks health institutions, despite the fact that such facilities are available in many regions in the country, Dr. Gidisu noted, informed the decision to set up in the region. 'The Eastern region per research also has the highest number of people seeking healthcare and so we decided to cite this hospital here for them to have easy accessibility,' he noted.
On accreditation, the astute doctor confided that the institution has already approached the National Accreditation Board for accreditation and that securing the accreditation was in process.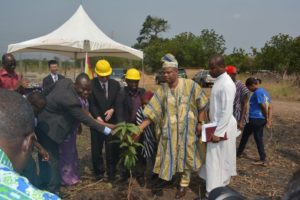 Various stakeholders and dignitaries who graced the ceremony expressed their delight at the citing of the project on Krobo soil and pledged their unflinching support for its successful establishment. These included Vice Chancellor of the Hebei Medical University, China, Head of Cardiothoracic Surgery Department of Hebei Medical University Teaching Hospital and officials from the Chinese Ministry of Youth and Sports.
Others included officials from the Ministry Of Health and Ghana Health Service, representatives from the Ghana education service, representatives of the National Health Insurance Authority, the Ghana Health Service, the clergy, traditional rulers and other prominent officials.
Source: ritefmonline.org