Host of Rite FM's Mid-Morning Show (Adwuma Mmre), Celestine Ghalley together with Morning Show host, Krobea Asante and Richard Frimpong (Papa Attitude), drive time host (Okwanso Anigye), have been nominated for the Eastern Region Media Excellence Awards(ERMEA) for their respective categories.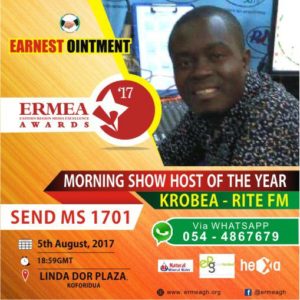 The three presenters are among several nominees from other media houses from the Eastern Region whose work in the 2016/2017 calendar year will be assessed by a jury award.
In all, the station managed to get six nominations in the fourteen categories announced for the awards. Koforidua based Bryt FM tops the nominations with twelve (12) nominations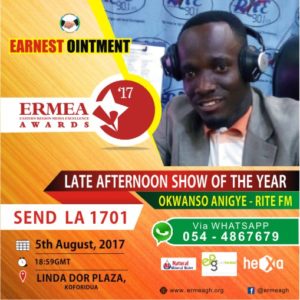 The Eastern Region Media Excellence Awards (ERMEA) nominees were announced at Hotel Fredren in Koforidua.
The Award is to recognize outstanding media personalities whose work show exemplary leadership towards building a vision and a future for the region's media platform.
Below is a full list of the nomination list:
SOCIAL PROGRAM OF THE YEAR
AGRIC FORUM – RITE FM
OMAN YI B3 Y3 YIE – OFEI FM
EASTERN AGENDA – EASTERN FM
MMARIMA AHYIA – RADIO 1
OWUNWUNU ADWO – BRYT FM
GOOD MORNING GHANA – OBOUBA FM
SPORTS PROGRAM OF THE YEAR
GLOBAL SPORTS – AGOO FM
BRYT POWER SPORTS – BRYT FM
HI PREMIER SPORTS – HI FM
KINGDOM SPORTS – KINGDOM FM
LIFE SPORTS- LIFE FM
OFIE SPORTS – OFIE FM
OBUOBA SPORTS – OBOUBA FM
SPORTS HOST OF THE YEAR
DENNIS OWOAHENE ACHEAMPONG – AGOO FM
K BAAH – BRYT FM
SAMUEL ANIM – HI FM
OSUANI AFRIFA – OFEI FM
ISRAEL OSEI – KINGDOM FM
OSANTROFIE – LIFE FM
FRANCIS OKYERE – SUNRISE
NEWS PROGRAM OF THE YEAR
KASE3 BO D3 D3W – BRYT FM
NA WO KAA NO S3N – AGOO FM
OBOURBA NEWS-OBOURBA FM
ATWETAN NEWS – GOOD LIFE FM
UNCOVERED PERSONALITY OF THE YEAR
ICE BABY – NKONIM FM
DJ JAH SOLO – BRYT FM
ODAME AGYARE FRANK – RADIO 1
EBENEZER K-LOVER – AGOO FM
OB4 – NOPRAS FM
AKONOBA – FREELANCE JOURNALIST
MORNING SHOW HOST OF THE YEAR
KWAKU DAWURO – KINGDOM FM
CAPTAIN KOFI WUSU – RADIO 1
OKATAKYEI – AKYEMANSA RADIO
KROBEA – RITE FM
EUGENE AKOTO BAMFO – AGOO FM
KOFI ATAKROAH – NKONIM FM
NSEMPAWURA – EASTERN FM
LATE AFTERNOON SHOW OF THE YEAR
GYASO GYASO – BRYT FM
YE WO KROM DRIVE – KINGDOM FM
AKWAABA – AGOO FM
NYANSAPO – HI FM
EKWANSO NSEM– EMAK FM
AYIKOO – RADIO 1
OKWANSO ANIGYE – RITE FM
FEMALE PRESENTER OF THE YEAR
CELESTINE – RITE FM
ROYAL MAMA CITA – BRYT FM
JUSTINA – OBUORBA FM
AKOSUA SEKYIBEA – RADIO 1
MAAME TIWAA – OFIE FM
ABENA POKUA AHWENE – AGOO FM
M.P – KINGDOM FM
ENTERTAINMENT SHOW OF THE YEAR
ENTERTAINMENT TODAY – RADIO 1
PIMPINAA – KINGDOM FM
SATURDAY ENTERTAINMENT SHOW – SUNRISE FM
OBOUBA TOP 20 – OBOURBA FM
WEEKEND SPLASH – GOODLIFE FM
AGOO SHOWBIZ – AGOO FM
LIFE ENTERTAINMENT SHOW – LIFE FM
MOST VALUABLE PRESENTER OF THE YEAR
DJ 024 – OFIE FM
EUGENE – AGOO FM
KROBEA – RITE FM
JUSTINA – OBOURBA FM
BISHOP AGBEY – RADIO 1
LONDONA – KINGDOM FM
DR. PREKESE -BRYT FM
RADIO STATION OF THE YEAR
BRYT FM – KOFORIDUA
AGOO FM – NKAWKAW
OFIE FM – AKIM ODA
OBOURBA FM – NKAWKAW
KINGDOM FM – KOFORIDUA
RADIO 1- BUNSO
RADIO DJ OF THE YEAR
DJ POLICE – BRYT FM
DJ BLAY – AGOO FM
ZIGGY BEE – HI FM
DJ TYMER – RADIO 1 FM
DJ MIX – EMAK FM
DJ ANS – OBOUBA FM
DJ BOSH – KINGDOM FM
RECORD PROMOTER/ BLOGGER OF THE YEAR
DJ KININO – SUNRISE FM/ EASTERNCONNECTGH
DJ TYMER – RADIO 1/ TYMERLEAKS.COM
RANSFORD KUMI – KUMIKASA.COM
DJ 0 2 4 – OFIE FM
DJ RIDER – RADIO 1
BLUTUT – NKONIM FM
DR. PREKESE – BRYT FM
MID MORNING SHOW HOST OF THE YEAR
DJ OBOFOUR – EMAK FM
ROYAL MAMA – BRYT FM
ASONABA – AGOO FM
JUSTINA – OBOURBA FM
MP – KINGDOM FM
AGYEWODIN AKOSUA SAKYIBEA- RADIO1 FM
CELESTINE – RITE FM