By: Krobea Asante  and Nana Ampem Gyeke
New Patriotic Party (NPP) constituency organizer for Shai-Osudoku, Nana Asante Boateng has said Shai Osudoku needs nothing other than a plastic processing factory, should the government roll- out the one-district, one factory campaign promise.
Mr. Asante disclosed this Thursday afternoon, in an interview with News Africa Online Krobea who doubles as a morning show host at Rite FM, a radio station at Somanya in the Eastern region of Ghana
He emphasized, even as the government tackles its 2016 electioneering campaign promise of one-district, one- factory in all regions of Ghana, the Shai – Osudoku constituency would go for a plastic industry rather than a mango factory.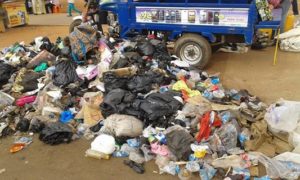 According to the ruling government's constituency organizer, there are no much mango farms in the Shai- Osudoku district to feed a mango factory the raw materials should there be such an establishment.
He therefore opined that a factory like plastic processing will do the area more benefits than a mango factory. He observed taxi drivers, traders, and everybody in the district irrespective of their educational strength shall benefit from a plastic company.
Mr. Asante bemoaned that people who move from the area to buy plastic products like, cups, ice chest, polythene bags, rubber bowls among others in Accra shall be happy to see such a factory at their doorstep and it would greatly improve on their livelihoods.
''If there should be a mango factory here in Shai- Osudoku, the story won't be no different from that of the Komenda sugar factory in the central region.
The previous government invested much of the tax payers' money into the Komenda sugar factory project only to realize at the end that there was no sugar cane farmers to feed the factory raw materials.'' He noted.
Mr. Asante further explained, '' there is no dumping site in the district, hence most young and old people in the area go round the vicinity to collect plastic waste materials.
Particularly they pick waste sachet water rubber and sell to Indians who have plastic recycling companies in the country.
These Indians make money at our expense and take the monies away to their home countries.''
He appealed to his government to involve grass root citizens in the decision making body of the one-district, one-factory creation and urged that surrounding districts and municipalities hold a stakeholders meeting to map out plans prior to the factories NPP promises.
He added, '' we in the Shai-Osudoku by this factory will intend to produce and supply the Yilo Krobo district factory with plastic bottles for their mango juice and others.''
Mr. Asante Boateng said it would go a long way of employing more people, young and old, educated and non-educated, women and men in the district and even beyond.
He took the opportunity to congratulate all MMDCE nominees who were recently announced. He wished them all the best of luck in their appointments and urged all party folks to give the lucky ones all necessary sustenance to help the party succeed.
The constituency organizer however advised the president, H.E Nana Addo Dankwa Akufo Addo to listen to the grassroot people when they sometimes suggest certain things to the party's development adding, ''Elections are never won at national levels but largely at the grassroot and constituency levels.''
Source: ritefmonline.org