Rite FM in collaboration with Chrismek Rights Foundation has successfully launched the second phase of its District Education Observer Project  dubbed DEOP II at the Wesley Methodist Cathedral in the Yilo Krobo Municipality in the Eastern Region.
The District Education Observer Project (DEOP) II is a supported by STAR-GHANA with Funding from UKaid, European Union and DANIDA with more focus on Gender Equity and Social Inclusion (GESI).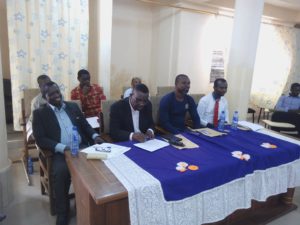 The project will focus on 10 poor performing schools from the Yilo Krobo Municipality. Following the BECE Performance League Table, the Education Directorate for the area has prioritized the following schools.
Sra Presby J.H.S, Aketebour Salvation Army J.H.S, New Somanya Methodist J.H.S, S.D.A Preparatory School, Bukrum Agavenya J.H.S, Abrewankor M/A J.H.S, Ogome Anglican J.H.S, Obenyemi M/A J.H.S, Akorley M/A J.H.S, Joy Home Academy.
Meanwhile, in a speech delivered by Mr. Kenneth Oliver, the General Manager of Rite FM on behalf of  the CEO Mr. John Addo-Fening, he said Rite FM even though has been noted for Agriculture issues, social development issues like education in its catchment areas especially  Yilo Krobo Municipality is also paramount on its agenda.
He further said; ''Rite FM over the last few years has focused not only on Agriculture but also on social development issues and has taken special interest in education in our surrounding districts and takes exceptional pride in the welfare of our schools in the Yilo Municipality.  It was for this reason why Rite 90.1 FM in year 2014/15 implemented a one year educational project dubbed District Education Observer Project 1''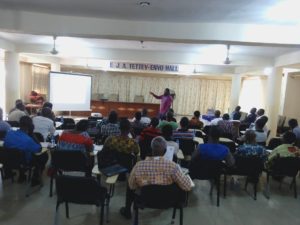 He also further added that, Success stories and lessons from the first project  such as lack of teacher accountability and community participation in the management of schools  are the reasons to undertake the District Education Observer Project (DEOP 2).
The project coordinator for DEOP 1, Mr. Owuraku Asamoah highlighted success stories on the first project, for instance; moving nine 0% performing schools to 80.92% with 43.8% as the least performance in the Municipality's 2016 BECE results.
He lamented on some challenges encountered during DEOP 1 which includes bad roads, lack of motor bikes for both teachers and supervisors etc. But however, he congratulated the Ghana Education Service (GES) for their proactivity in the first project.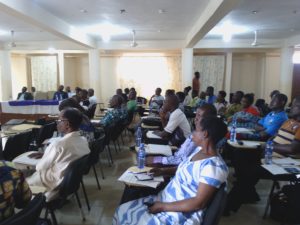 DEOP ll Coordinator, Mr. Goldman Awuku said, the Project will focus more on Gender Equity and Social Inclusion (GESI) and Community participation.
Adding that, based on outcome or success stories of the first project, the second phase will  ensure effective teaching and learning in project schools using Community Score Card methodology, enhance capacities of SMC's/ PTAs, Community members, parents in the management of schools in their community and  improve teacher attendance etc.
Yilo Krobo Municipal Director of Education, Mr.  Augustine Adusei in his address embraced the Project since it increases stakeholder involvement in education and assured Rite FM of their support for DEOP II and their commitment in making it a success.
The program was graced by dignitaries and stakeholders from the education sector. Eastern Regional GES Public Relations Officer, Municipal GES Director, Member of Parliament Representative, Assembly Members, Opinion Leaders , Concerned Citizens, Municipal GNAT  Secretary, Headmasters  and Headmistresses, PTA Representatives and Government  Appointees .
Source: Joyce Bedeley/ritefmonline.org