Government's Planting for Food and Jobs (PFJ) Policy must prioritise agricultural modernization as the sure way to help improve the livelihoods of farmers, a lecturer at the Biotechnology Center of the University of Ghana has said.
Dr Daniel Dzidzienyo observed that challenges that the agricultural sector faces including climate change and low remuneration among farmers can only be dealt with if science and technology are imbibed into work on the farms.
"In Ghana, about 60 percent of the population is engaged in agriculture but we can't feed ourselves…A significant number of Ghanaians go to bed hungry. There is a lot of poverty. Farmers don't get the needed returns for their labour and investment.
Advertisement
"About five percent of the population are food insecure. Partly because farmers rely on unimproved seeds. Climate change isn't helping the situation any further," said Dr Dzidzienyo who is also an associate faculty member at the West Africa Center for Crop Improvement (WACCI).
Government launched the PFJ policy earlier this year, announcing it will be hinged on five main pillars. They are provision of improved seeds, the supply of fertilisers, provision of extension services, improved marketing strategies and the use of e-Agriculture. The programme aims to increase maize production by 30 percent, rice by 49 percent, soybeans by 25 percent and sorghum by 28 percent.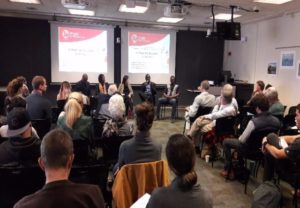 Dr. Dzidzienyo said assurances from government that the PFJ policy will prioritize technology is an indication that Ghana is ready to accept innovation in the Agric sector. "Earlier this year, government launched the PFJ policy… We need to modernize agriculture to improve the lives of rural dwellers. Increase productivity, alleviate poverty and end hunger.
"The environment in Ghana is conducive to embrace modern technology. This is important so we are not left behind," Dr. Dzidzienyo said during a panel discussion at the College of Agriculture and Life Sciences of Cornell University in the USA.
The discussion which was moderated by Director of the Alliance for Science Sarah Davidson Evanega was under the theme: "Can biotechnology play a role in the development of Africa?"
Nigerian journalist Nkechi Isaac who was on the panel said: "there has been a dip in the price of oil and that led Nigeria into deep recession…the government is looking at diversifying and there is no way we can go into agriculture without modernising. If we are going to feed the population, we need biotechnology to boost agriculture."
Arkson Mwanza, an Agric Extension specialist from Zambia expressed concern about the huge food import bill in Africa despite the vast available fertile land.
Philibert Nyinondi, a researcher at the Sokoine University of Agriculture in Tanzania noted the need for access to improved seeds to help increase yields in his country as well. He said farmers are yearning for such technologies.
"Farmers in Tanzania visited Burkina Faso and realised that the cotton there is doing so well, and they jumped on the seeds…If we have technology that can save the lives of millions and we can give it to them. Why are we here discussing whether Africa will accept it?" he noted.
Source: Ghana| Myjoyonline.com