By Rite news desk:
Hundreds of irate residents of Somanya are currently visiting mayhem on the Somanya Police station following the arrest of the ring leader of last Fridays assault on the Somanya office of the Electricity Company of Ghana.
Emmanuel Adamptey, assembly member for the Sawer Electoral Area, a suburb of Somanya who allegedly instigated Friday's riots was picked up Monday morning by police from the Somanya Police command.
His arrest follows reports that he was under police manhunt over the incident.
But this has infuriated irate residents who have besieged the police station where he's currently being held. Police have also confirmed that two rioters have been injured by gun shots fired by the police to disperse the crowd.
The mob not satisfied with their actions also set free prisoners who were being held on remand at police cells.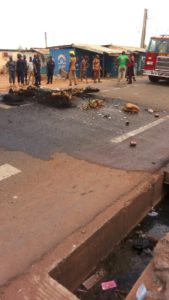 The mob have blocked roads in front of the police station and set tyres ablaze. A police vehicle parked in front of the police station has been burnt beyond recognition while police remain locked in their offices. Police reinforcement is also yet to arrive to salvage the situation.
Hundreds of angry residents on Friday stormed the ECG office in the area and vandalized parts of the building after demonstrating over what they described as killer electricity bills.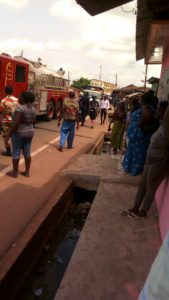 The angry residents reportedly caused damages to a pickup truck belonging to the state power distributor and other properties at the offices of the ECG.
Source: ritefmonline.org