By Krobea Asante Tofepa Ntomentwene:
Mr. Ebenezer Tettey Kupualor, headmaster of the Somanya Presbyterian School has been nominated by the president, Nana Addo Dankwa Akuffo Addo for the Yilo Krobo Municipality of the Eastern region. His nomination comes on the heels of protests from certain quarters against his nomination which sought to argue that he is not a true son of Yilo Krobo.
Earlier on Sunday, a group calling itself the Concerned Patriots of Yilo, said to be sympathizers of defeated NPP parliamentary candidate for the Yilo Krobo constituency, Francis Djetse Apertey who was also under consideration for the position, cautioned president Akuffo Addo against appointing  a 'stranger' into the position of Municipal Chief Executive.
Adding his voice to the impasse, Mr. Almond Kotei, a local governance expert in the Eastern region asserted that selecting a Metropolitan, Municipal District Chief Executive, MMDCE who is not an indigene from the area in question could be disastrous to the development of a district or municipality.
Mr. Kotei made the assertion in an interview with Krobea Asante on the Rite Morning Ride when he was reacting to the increasing appeal to the President, Nana Addo Danquah Akuffo Addo to choose MMDCEs 'who are indigenes and not strangers.'
'It appears to be the order of the day and the President should heed this call from the people unless he has enough grounds to do otherwise,' the governance expert remarked.
According to Mr. Kotei, the nature of the assembly work demands that people selected for the job understand the culture, traditions, customs and needs of the people, stressing that natives who are put into such positions perform better.
'Until the people understand to work with a non-native of a selected area, the President may be digging his grave for opposition even though it's not in our statutes to automatically appoint an indigene into such positions.'
In nearby Lower Manya Krobo, the president settled on Mr. Simon Kweku Tettey as his nomination for MCE.
President Addo Dankwa Akufo-Addo on Wednesday named 212 persons to fill the Chief Executive positions of the various Metropolitan, Municipal and District Assemblies (MMDCEs) across the country.
Local Government Minister, Hajia Alima Mahama who made the disclosure appealed to supporters of the governing New Patriotic Party (NPP) to back the nominees.
Below is the list of nominees: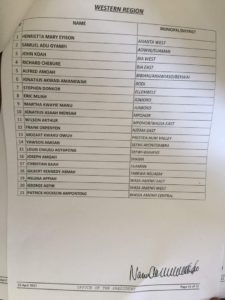 Source: ritefmonline.org