By Joyce Bedeley:
Residents of New combine in the Akosombo Township in the Eastern region have on Tuesday demonstrated against the Akosombo Management Committee, a subsidiary of the Volta River Authority over what they describe as killer electricity tariffs.
'Our bills have been increasing inordinately for the last three years since the meters were changed about three years ago. I'm compelled to pay as much as Gh c 500 or Gh c 700. The worst part is that sometimes, the bills do not come on time and when it does, we're compelled to cough up several months of accumulated bills,' one distraught resident charged.
The demonstrators, some of whom joined from surrounding communities say, the problem of high tariffs started when the Electricity Company of Ghana (ECG) changed their meters about three years ago.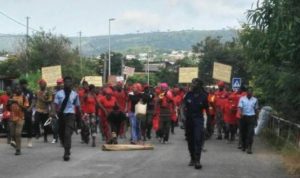 The situation, according to them, has also forced most of them to close down their businesses.
"The situation has affected our businesses and we cannot sustain them because of the outrageous bills we have to pay for electricity," Kwabena Boateng, one of the demonstrators who spoke to Rite news.
According to him, ECG had never managed them as they had always been managed by the VRA.
This in their view has compelled them to believe that the change in meters by ECG has contributed to their plight.
"We are currently at the complex school park we are demonstrating the high electricity tariffs, for a year and over now since our meters were changed. VRA manages the electricity in this area right from Atimpoku coming from Akosombo and so many other areas; it has always been VRA that has managed us, ECG has never managed us."Kwabena further added that they are made to pay over one hundred percent of what they used to pay despite using the same gadgets in their homes and work places.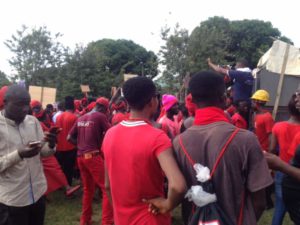 "Now somebody who was paying 100 Ghana cedis now pays 700 Ghana cedis and it's the same gadgets that the person has been using; that is exactly what we are demonstrating about. We have all come to realize that there is something wrong with the system and we heard that some of these meters did not pass through the Energy Commission."
Member of Parliament for Asuogyaman, Ampem Nyarko said he is very much aware of the problem and residents expect him to come to their aid.
The Assembly Member of New Combine, Hon Joseph Agyeman Banahene added who also spoke to Rite FM expressed optimism that their concerns will be heard. He however threatened that the affected residents would have no option but to boycott using electricity if their complaints fall on deaf ears.
Source: ritefmonline.org