The First Lady, Mrs Rebecca Akufo-Addo, has urged Ghanaians to be passionate and concerned about the safety of mothers whose survival is constantly at risk at the Komfo Anokye Teaching Hospital (KATH) Mother and Child Unit due to lack of facilities.
She stated that "when a mother dies, a vacuum is created in the family, which never gets filled, and when a child dies we always wonder because maybe that child could have been in the university or engaged in other productive endeavours."
The First Lady was rallying support for a GH¢10 million facility at KATH at the 'Save a Child, save a Mother' fundraising to save the lives of unborn babies and their mothers while awaiting the completion of the 41 year-old structure to ease congestion at the facility.
A similar fundraising exercise in Accra on May 4 yielded GH¢8 million to begin the construction at the site.
A sod-cutting ceremony under the auspices of the Asantehene, Otumfuo Osei Tutu II, is expected today to commence construction.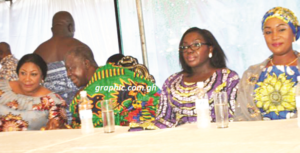 Mrs Akufo-Addo said death was inevitable but we should prevent avoidable deaths that could be fixed with the provision of additional space at the KATH facility.
"That is why we took on this project; and that is why Ghanaians and others have contributed to this project. We have heard how bad the current situation is and we have watched the documentary, which is simply heart-breaking, and many of you are asking questions in your mind; but beyond that I asked how we would attain the first sustainable development goal of ensuring sustainable healthy lives by promoting safe motherhood," she stated.
"How do we increase life expectancy and reduce child and maternal death if these persist, and how do they affect the agenda of our government to improve lives of all Ghanaians and guarantee the future health and the wellbeing of children?" Mrs Akufo-Addo asked.
The First Lady said the answer was to provide more facilities that would take five times the number of people that it currently could accommodate.
She added that there was a plan to improve other health facilities across the country and the contributions of Ghanaians would enable the government to do so.
The wife of the Asantehene, Lady Julia Osei Tutu, applauded the First Lady and the Multimedia Group (which aired the documentary about the woes of KATH) and said the project would benefit other health institutions across the country.
She expressed the hope that lives of children and mothers would be improved as a result of this initiative spearheaded by the Multimedia Group.
Among those who donated were Tobinco Ghana, Adonko Bitters and Mr Antwi Boasiako, the Ashanti Regional Chairman of the ruling New Patriotic Party (NPP), who doled out GH¢100,000 each.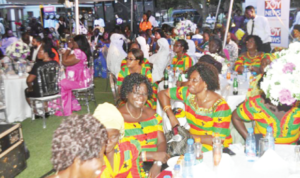 The Ashanti Metropolitan, Municipal and District Assemblies and the Regional Coordinating Council together donated GH¢120,000.
Source: Graphic Online.com