Assembly man for the Sarwer Electoral area in Somanya who is standing trial before a Koforidua Circuit court for allegedly instigating some youth of Somanya to attack the Somanya office of the Electricity Company Of Ghana today wept in court after being refused bail by her honour, Justice Mercy Adei Kotei.
A Circuit Court in Koforidua in the Eastern Region has also remanded 11 others in prison custody for attacking a police station in Somanya. Two more others have been asked to present a written application for bail. The 14 including an assemblyman were arrested on Monday, May 29 following an attack on the Somanya Police Station which resulted in the razing down of one police patrol vehicle.
Rite FM Eastern regional correspondent, David Ayertey reported of a heavy security presence at the court premises when the case was heard.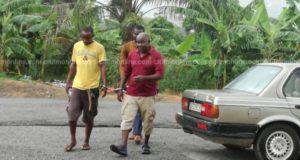 While the court remanded 12 of the suspects in police custody, it however demanded that two of them – a student of the Mount Mary training College and a mobile money banker – bring a written application for bail through their lawyers.
This directive meanwhile did not go well with Lawyer Simon Anumley, Counsel for the accused who argued that the two were only arrested as part of the police raid. They are scheduled to reappear on Tuesday, June 27 as prosecutors say more time is needed to investigate the matter further.
Mr. Adamptey who operates a block factory in Somanya and 13 others are standing trial for various offences including causing unlawful damage, conspiracy to riot, rioting with weapons, unlawful assembling and causing unlawful damage to properties
The suspects allegedly led a mob to vandalize the Somanya Police station in the Eastern Region, where they freed four suspects in police cell.
Hundreds of angry youth on Monday, May 29 besieged the Somanya Police station, vandalized property, set fire to a police car and freed four suspected criminals in police custody.
Their action saw many officers around the station, fleeing for their lives.
Their action was sparked by the arrest of the assembly member, Jones Ebenezer Adamptey who is accused of masterminding an earlier violent demonstration against the ECG on May 26 over high bills.
Source: ritefmonline.org