By Rite news desk:
The ring leader of Friday's uprising against the Somanya office of the Electricity Company of Ghana, Jones Ebenezer Adamptey, aka Dendenden together with thirteen suspects arrested for vandalizing the Somanya police station on Monday and setting a police patrol vehicle on fire, have been remanded into prison custody for two weeks.
This comes after the fourteen suspects appeared before a Koforidua circuit court on Tuesday.
The suspects allegedly led a mob to vandalize the Somanya Police station in the Eastern Region, where they freed four suspects in police cell. They were charged with causing unlawful damage, conspiracy to riot, rioting with weapons, unlawful assembling and causing unlawful damage to properties.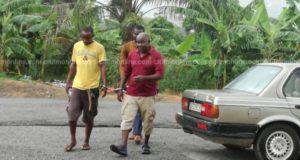 The court presided over by Ms. Mercy Adei Kotei refused a plea for bail for the accused persons when their lawyer, Simon Animey requested for bail.
Meanwhile, the lawyer indicated his disappointment in the court's refusal to grant his clients bail.
The lawyer also served notice that he will go to the High Court to have his demands met.
Ms Mercy Adei Kotei explained that, the suspects will interfere with Police Investigations if granted bail, and thus remanded them to reappear on 13th June 2017.
Hundreds of angry youth on Monday evening besieged the Somanya Police station, vandalized property, set fire to a police car, also freed four suspected criminals in police custody.
Their action saw many officers around the station, fleeing for their lives.
Their action was sparked by the arrest the assembly member for Sawer, Jones Ebenezer Adamptey who is accused of masterminding an earlier violent demonstration against the ECG over high bills.
Source: ritefmonline.org